Welcome to
NeonClock.org
The web site of neon clocks...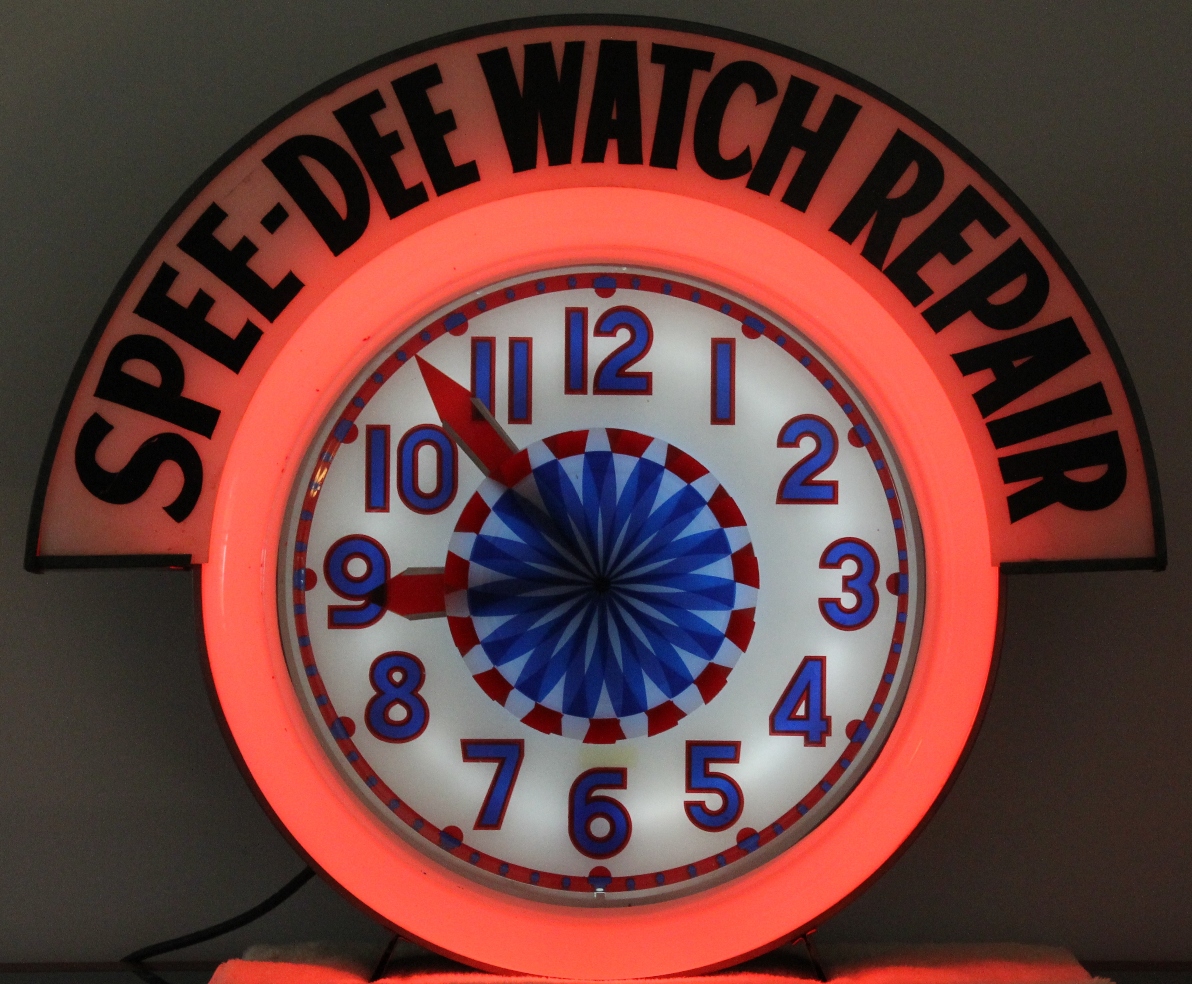 Click the clock to enter the wonderful world of neon clocks.
This clock is an Electric Neon Clock Company "pinwheel" clock.
"For preservation, not for profit"
Supported by the Neon Clock Collectors Association
(see our NCAA page on Facebook)
This site was last updated on February 18, 2013.
(scroll down for details)
Currently, there are 310 clocks displayed on this site. Check 'em out!
(okay, some are thermometers...)
This site maintained by David Walker and David Austerman, for the Neon Clock Collectors Association. Direct any questions/comments to dwalker127@neonclock.org or 737builder@gmail.com
Update details:
New material: A newly discovered sales brochure from the latter days of the Electric Neon Clock Company has been added to that history page. Also posting additional photos on the ENCC Gallery page (11 Aztecs,
02/16/2013 - Added a page for an expanded list of Serial Numbers for Electric Neon Clock Company clocks. Also, added more photos to the "Correct Time/Say It In Neon" gallery page, and a few to the Electric Ad Clock page, particularly interesting is a salesman's sample for the Cathedral style. I have also added patents for the Electric Ad Clocks which show an interesting evolution of the design over the years... 1932-1933! It's really interesting material to those who have opened up one of these cocks to try to get the drum mechanism working correctly (as I have had to do!).
02/03/2013 - The Neon clock Collectors Association is now on Facebook here! Note that this is a trial as I'm not sure how this really works...
12/28/2012 - Aren't holidays great??? I had time to add pages for Neon Action, Neon Clock Company of Los Angeles, Neon Clock Sales, Neon Display Products, Neon Electric Corporation, Prestyle, Radio-TV Adv. Inc., Ray Neon Instrument, Rosemont Industries, Seth Thomas, Taylor Thermometers, Travel Time (with special notes regarding Neon Products and Marvin Display clocks), and Wesco. Whew!
12/16/12 - I damn near missed my News Year Resolution to add additional manufacturer pages for some of the more rare companies, but pages have been added for All American, Curtis, Everlite, GE, Hanssen, Imperial Ad, International (IBM?), and Lewis clocks, and clocks have been added on the American (1), Brubaker (4), Canadian Neon Ray Gallery(14), and Lumi-Dial (1) pages. Some of these new additions can be found on the pages for clocks advertising Food/Beverages, Auto Companies, and Radio/TV Stations.
11/13/11 - Big news: Added a "Patents" page with some patent documents we found on a few different clocks and/or manufacturers. Also, we corrected some information on the Electric Neon Clock Company history page and added some additional Serial numbers.
10/11/11 - Electric Neon Clock Company history page was added, compiled from information sent to us by the son of the founder of the company. Thanks Ron! Oh, and I decided to change the clock displayed on the home page.
08/23/11 - Has it been that long??? OK, we added a page for Ohio Advertising Display Company.
10/30/09 - Added a page for the Neo-Lite Attentioneer Clocks. Check 'em out! Also, major work on the Glo-Dial pages adding 29 clocks, particularly in the Glo-Dial Gallery. Check out some of the unusual clocks there, like copper bodies, and a very unusual Indian Motorcycle clock.
10/02/09 - Added a several Roto-Dial clocks, including some nice original ones, and added a Roto-Dial Gallery page that includes photos of some structural details of these unusual clocks.
07/15/09 - Added a few Glo-Dial Table Top clocks... and updated the "Jewelry" page.
07/12/09 - Added an old postcard of a cafe with an Aztec., and added a page for Federal Neon Clock Company (check it out!).
07/07/09 - A little more clean-up, and added a NeoCraft clock.
07/06/09 - Working on technical issues to deal with new hosting site, and fixing some typos, etc. while I'm at it.
07/01/09 - Due to host server issues, new hosting site was implemented.
05/21/09 - Due to spam and inappropriate content on discussion board, these pages were removed.